Being anti-racist goes deeper than grand gestures. Purpose Union's Lewis Iwu provides insight and tackles tough questions for business.
21 Oct 2020, 7 min read
The writer and activist, James Baldwin, once said: "not everything that is faced can be changed, but nothing can be changed until it is faced". This year businesses across the world had to confront racism within their organisations and in the world around them. Rather than being cloaked in a broader (and safer) conversation about diversity, this moment demanded specificity and nuance about racism and anti-black racism in particular.
So where are we almost half a year on? Firms have made new pledges on race and new initiatives have been launched. Many have met this wave of corporate action with scepticism. Such weariness has been warranted in places. Some companies have taken the view that it is possible to send out messages of support for racial justice without acknowledging or confronting their own very recent challenges. Some CEOs have entered the debate from a position of ignorance.
However, it would be churlish to let those incidents obscure the bigger picture: corporate Britain is having a conversation about race in a manner that has never happened before. This matters for so many reasons. Relatives and friends have told me how they've had an opportunity for the first time to tell their stories and feel comfortable doing so. Authors such as David Olusuga and Reni Eddo-Lodge saw their books become bestsellers as part of the clamour to read up. The feeling of being listened to by your employer and colleagues has been cathartic for so many.
Yet, there are outstanding questions from businesses:
What is expected of us?
How do we keep up momentum and avoid the trap of only talking about race during Black History Month or during high profile moments of tragedy?
How do we bring other groups on this journey rather than them feeling left behind?
Can we adopt a more holistic approach to our thinking about race (e.g. by incorporating a race lens into our work on sustainability)?
These are difficult questions, in part because a new generation of employees, consumers, activists and investors are driving this conversation. In our annual Purpose Pulse survey, we examine the expectations of millennial and Gen Z audiences of how companies should engage with society. Our polling suggests that BAME people believe that businesses and their leaders can make a real difference. They want to work for employers that take a stand. They are willing to advocate for businesses that do their part. They want firms to engage with these issues transparently.
Considering this, three areas might guide business engagement with race in the future: transparent and authentic leadership, reframing initiatives, and coalition building.
Leadership
Firms who want to ensure that they meet the expectations of their stakeholders when it comes to race invest in listening: they take time to understand the experiences of their BAME – especially black­ – colleagues in the organisation. They then listen to customers and wider society, helping them to understand how their core business can be harnessed to drive racial equality beyond their business. Engaging in this process equips companies, and leaders, with the data, direction, and confidence to then define their engagement on an ongoing basis. Our Purpose Pulse survey informs us that transparency is one of the most critical ways for companies to build trust with millennials and gen z audiences: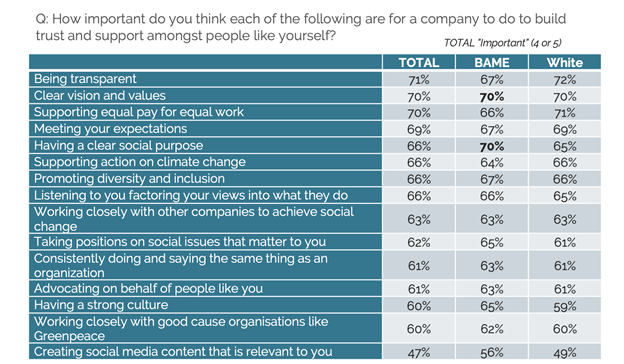 Businesses should consider how they communicate their findings with their key stakeholders, especially when the results of that data are challenging. CEOs and spokespeople on behalf of firms should take time to listen, learn and then engage; audiences will call out spin but will endorse honesty.
Reframing initiatives
Firms should do more to refocus social issues around racial justice. Corporates that are effective at demonstrating their social purpose tend to focus on a specific and relevant social problem to attack. An educational technology company may focus their efforts on reducing the number of young people not in education, employment, or training. A financial institution may run a campaign to increase the pipeline of small businesses owners by improving access to capital.
We know that the biggest challenges facing society often affect ethnic minorities in distinct ways. BAME communities are less likely to report mental health problems. The gender pay gap is wider for women of colour. Black adults are the most likely out of all ethnic groups to be overweight or obese. Black women in Britain are five times more likely to die due to complications in pregnancy than white women. Low-income areas will be hardest hit by climate injustice – this has clear implications for BAME communities.
The impact of COVID-19 only widens inequalities: individuals from BAME communities are more likely to work in occupations with a higher risk of COVID-19 exposure, this includes the health and social care workforce, as well as cleaners, public transport and retail workers. There is also an economic impact – BAME workers are over a third more likely than white workers to be in temporary work or zero-hours contracts.
Businesses have an opportunity to elevate and shine a light on these issues to drive awareness and advocate for systemic change. They should consider expanding these initiatives by reframing those social challenges around race. At the very least give airtime to the racial dimensions to those problems.
Coalition-building
Racism manifests in multiple ways. Individuals or organisations acting alone are unable to remove the structural barriers that people of colour face. The challenges must be met with coalitions of organisations working together. Organisations who are committed to achieving the same goal can develop a better understanding of where the need is most significant because a coalition provides a structure that enables them to work in a more coordinated manner. Forming a coalition can be an effective way of accelerating progress towards ending racial discrimination and winning new people over rather than preaching to the converted.
Timing isn't always everything
Many companies struggle to reconcile the desire to "get their house in order" with the need to drive wider structural change. The logic being that you can only have the credibility on wider issues externally if you have a proven track record internally. But the internal and the external can go hand in hand. Of course, companies need a solid grounding, yet having the ambition and impetus to address wider racial inequalities in business, education, health or culture can help to spur reflection, understanding and action throughout the business.
The events of 2020 have transformed the ways that organisations should approach racial justice. The most successful companies in the fight for racial equality will not be perfect. However, they will commit to listening, understanding, communicating and being ambitious about the role that they can play in proactively fighting racism in all forms.
---
Explore the effect of COVID-19 on diversity and inclusion, and how business can make diversity a priority at the fourth CBI Diversity & Inclusion Conference, 30 November - 1 December. Click here to secure your place.
CBI members get unlimited tickets to attend this conference. Non-members get complimentary access to selected sessions.
---
As part of Black History Month, join Rain Newton-Smith (Chief Economist, CBI), Lord Karan Bilimoria (President, CBI) and David Tyler (Chair, Domestic and General), to discuss the launch of the Change the Race Ratio campaign on our CBI @10am webinar on Tuesday 27 October.