Business leaders face common challenges as they work out how to transition their organisation to net zero. Ameresco's Karthik Suresh highlights some of the key issues.
27 Jul 2021, 5 min read
As more and more companies realise they will need to take action to reach our climate impact targets and obligations, the questions are coming thick and fast about the best place to start, and the best routes to take.
At the CBI's Net Zero Conference in June, Ameresco facilitated a session exploring the challenges commonly faced by leaders as they work through this conundrum. Our starting point is a simple strategy model: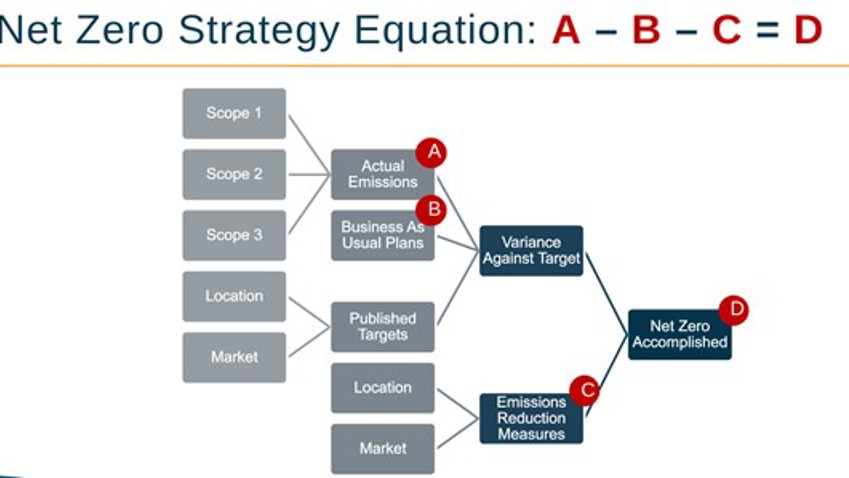 This model suggests that organisations have to do four things:
Start by collecting data and measuring baseline emissions (A).

Most organisations do this well for Scope 1 and 2 emissions - fuels burned under their control and purchased electricity. Scope 3 coverage (including their supply chains) is more complex and patchy.

Then think about targets.

Do you want to be net zero by 2050, in line with the UK government's targets, or do you want to get there sooner? The choice of date will help you create a linear target for each year – and the targets get harder the longer you leave it. This assessment gives you your target glidepath (to D).

Then work out what's going to happen organically or because of decisions you've already made (B).

The gap then between where you get to and where you need to be has to be filled by other actions (C) – either those you take on site or through the contractual agreements you make to offset your emissions. This can be a complex area, with the number of options multiplying daily. Making sure you choose quality products will be key to making justifiable assertions about your progress – and you'll find having a simple and robust system to track A, B, C and D very useful.
Around this simple strategy are a number of consideratio