Sue Garfitt
CEO, Alpro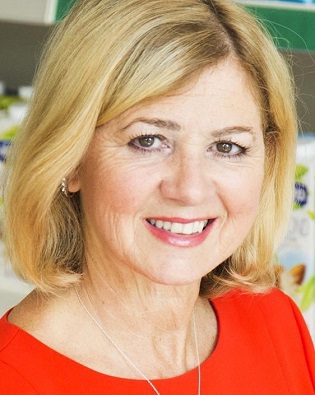 Sue Garfitt, CEO and General Manager Alpro, studied English & French at Portsmouth University and a postgraduate International Marketing.
Sue started at Alpro since September 2014; first as Commercial Director UK & Ireland, than as Vice President Customer Development, and now as CEO.
Sue is connected to the Boards of different Industry Associations and is President of ENSA (European Plant-Based Foods Association).
She was previously heading several commercial director functions at Maple Leaf Foods, PoleStar Foods, Burton's Foods and Britvic Soft Drinks.
When Sue first joined Alpro, she was determined to change the way people thought about plant-based food. Instead of thinking it was for people who had a dietary problem, she wanted Alpro to be known as leading pioneer of a mainstream category for everyone enjoying planetary diets as part of a healthy lifestyle.
She is a big supporter of inclusive diversity: being able to bringing different people together – different profiles, different nationalities across both genders to collaborate and work together. It enriches working lives and encourages to grow, develop and think differently.
The world is changing around us and being able to grow a brand that can make a positive contribution to a better world, for people's health and for the sustainability of our planet makes Sue very proud.