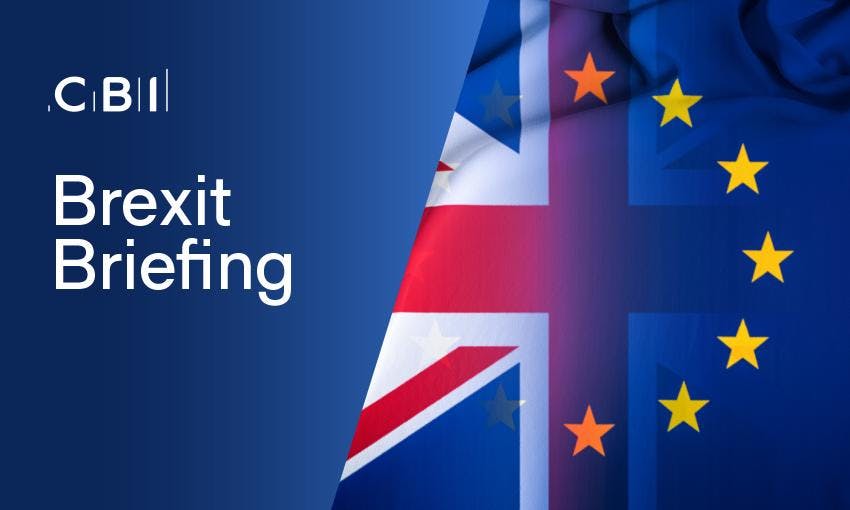 The October 31st deadline is fast approaching - is your business prepared for the outcome? Give your business the edge on Brexit by registering to hear the latest from the CBI's EU Negotiations Team.
With the new Prime Minister and Secretaries of State bringing a different dynamic to the Cabinet table, don't miss this opportunity to get informed.
By attending this Brexit Briefing you will:
Hear expert intelligence from Nicole Sykes, CBI Head of UK/EU Negotiations, on the Brexit process and understand what's really happening in the current negotiations

Find out the latest developments from Amy Brooker, CBI Policy Adviser, UK/EU Negotiations, on a 'deal or no deal' scenario and what either could mean for your business – are you prepared for both?

Benefit from a Chatham House rule Q&A discussion to learn what other organisations are doing in preparation for Brexit

Gain inspiration from a range of industry leaders to think differently about the challenges ahead.
You'll particularly benefit from this event if you are;

 CEO / Managing Director

 Government Affairs / Corporate Affairs Director/Head of

 Public Affairs Director / Head of

 Strategy VP / Director

 Finance Director

Give your business the edge on Brexit – book your place today.
Ticketing information
This is a CBI member only briefing and all CBI members are welcome. Complimentary tickets to this event are restricted to 1 per member company, but if the event is not sold out, all additional availability will be allocated to the waiting list on a first come first served basis.

If you have any questions:
Please contact the Event Manager Anne Cullom.
Not a CBI Member:
Why not consider joining? See the benefits of becoming a CBI member here.
Terms and Conditions:
The Terms and Conditions for CBI events are available here.
Committed to protecting your privacy:
We respect your privacy. For more information on how we are committed to protecting your privacy and data, please click here.
---