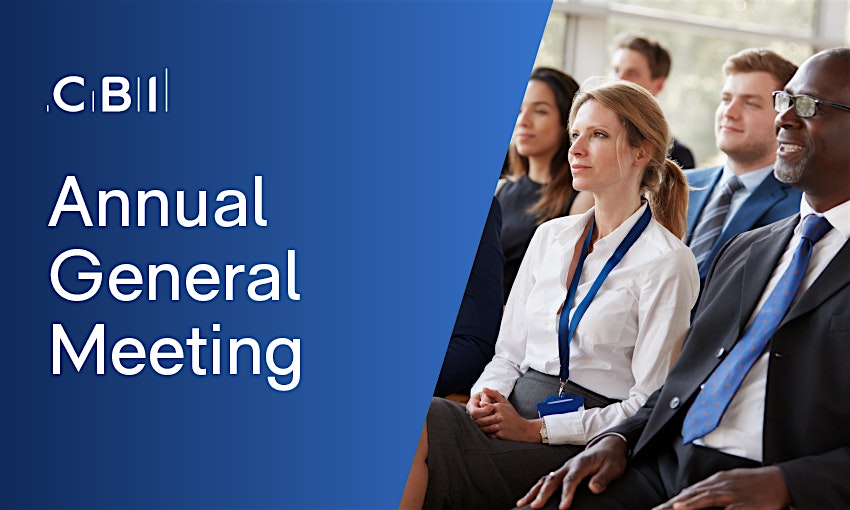 This is our flagship governance event. Members will elect the next President of the CBI, have an engaging QA with the senior team and look ahead to 2020.
The AGM agenda will cover: 
John Allan CBE, CBI President, will update members on his final year in office in what has been an unprecedented time of turbulence in the political environment.
CBI Director-General, Dame Carolyn Fairbairn, will provide a review of the year and her term, set out how the CBI is performing and the progress we have made against our mission.
An extensive Q&A with the senior team for you, the members, to put your questions and comments directly to the CBI Executive Committee and CBI President.
Formal business and resolutions of the AGM:
Receive and adopt the Annual Report and Accounts for 2019.
Elect the CBI President and Vice President.
Appoint the CBI auditors.
Voting on the AGM resolutions and asking questions in Q&A:
As this event will be held online, we ask that members vote in advance of the meeting and submit any questions they would like asked during the meeting.
You can find the proposed resolutions here.
Please return this from your company to Governance@CBI.org.uk.
Preliminary Agenda
12:00  Opening of CBI AGM and housekeeping

Neil Tomkins, Director of Finance and Corporate Services, CBI
12:05 CBI President's address
John Allan CBE, President, CBI
12:15  CBI Director-General's address
Dame Carolyn Fairbairn, Director-General, CBI
12:30  Voting results on Annual General Meeting resolutions

Neil Tomkins, Director of Finance and Corporate Services, CBI
12:40  CBI President inaugural speech
Lord Karan Bilimoria, President Elect, CBI 
12:50  Q&A with the CBI Executive Committee
13:30  Close of CBI AGM
If you are unable to attend, please forward this invite on to an appropriate colleague to represent your business. It is important that our AGM has strong attendance drawn from a diverse range of sectors and business leaders from across all the CBI's membership. This meeting requires a quorum of 50 members to proceed in accordance with the CBI Royal Charter so your organisations support is appreciated. 
If you have any questions:
Please contact the Event Manager Berit Vain.
Not a CBI Member:
Why not consider joining? See the benefits of becoming a CBI member here.

Terms and Conditions:
The Terms and Conditions for CBI events are available here.
Committed to protecting your privacy:
We respect your privacy. For more information on how we are committed to protecting your privacy and data, please click here.
---