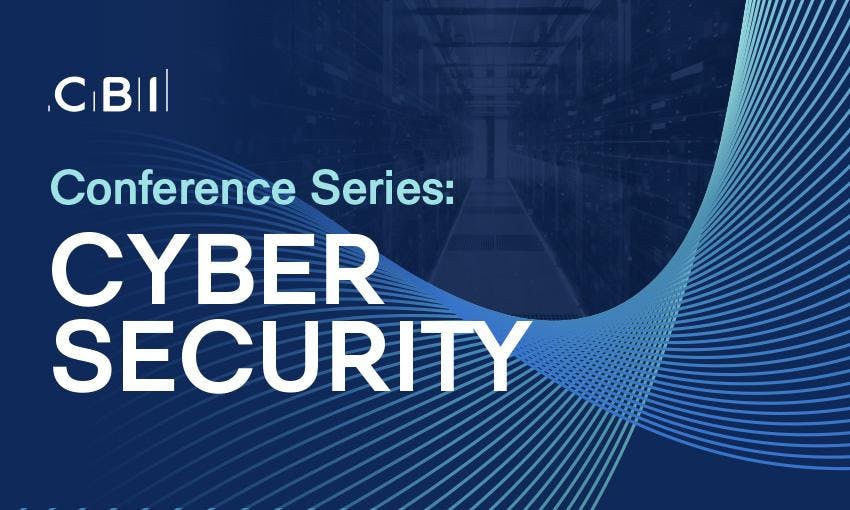 Cyber-attacks are a major risk for all businesses. Financial disruption, stolen IP and damage to hard-won consumer trust are at stake. Improving cyber resilience by turning awareness into action is essential for your firm.
The CBI's Cyber Security Conference brings together business leaders and the UK's foremost industry experts on cyber security. From the latest National Cyber Security Centre intel to insight from the World Economic Forum to how you can avoid a PR disaster in the event of a cyber attack, our experts will provide the cutting-edge insight and practical solutions to enable you to plan your strategy with confidence.
Join us for topics including:
Making the most of your investment in cyber security

Best practice in dealing with the aftermath of a cyber attack

How to make your people and their behaviours your strongest defence
Why attend?
Expert-led sessions, including keynotes from National Cyber Security Centre and World Economic Forum representatives

Cutting-edge insight and practical takeaways which can be implemented into your business, from the latest threat landscape to embedding cyber technologies

High level networking with business leaders and sharing best practice
Programme
08:30 Registration, refreshments and networking
09:00 Welcome and Introduction
LJ Rich, Technology Presenter, Music Hacker and Inventor
09:05 Address from CBI
Matthew Fell, Chief UK Policy Director, CBI
09:15 Keynote address, followed by Q&A
Senior representative, NCSC
09:40 Keynote address, followed by Q&A
Sir Robert Wainwright, Board Member, World Economic Forum, Centre for Cybersecurity
10:10 Panel Discussion - Dealing with the aftermath of a cyber attack: the good, the bad and the ugly
With the majority of UK businesses targeted by cyber-attacks, an organisation's response is just as important as its preparation. Talking to customers, dealing with uncertainty and handling legal responsibilities can make or break a company. This panel will explore what 'good' looks like following a breach.
This session will cover:
How to communicate effectively with customers and the public

Emerging tips on how to work with regulators

Learning from others' mistakes: what shouldn't you do?
11:00 Morning refreshment break and networking
11:30 Breakout sessions
Breakout 1: Driving resilience through digital skills and behaviour change (Resilia)
Cyber resilience is a team sport where everyone has their role to play. With attackers innovating rapidly, our digital skills in both our personal and working lives are a vital part of our ability to grow and protect our organisations. From the boardroom to the frontline, we all need the right behaviours and motivation to make informed cyber security decisions.
This panel discussion will cover the following areas:
Why we don't always do the right thing?
Making good security behaviours habitual
How can we most effectively influence and drive behaviour change?
Talking about business risk in the boardroom
Lessons learnt and guidance for change
Breakout 2: Preparing for the "perfect storm" – how ready is your business for a cyber attack? (NatWest)
Using real scenarios, this session will bring to life how technology can be abused to deliver the wrong outcomes for your business. It will prompt debate and discussion to understand the actions you can take now to prepare for the near inevitability of cyber attack.
Assessing preparedness – do you and your people know where your vulnerabilities lie and how they can be used against you?

Acting now – what can you do now to prepare?
Constant vigilance – is it possible to 'future-proof' against threats we don't even know about?
12:30 Lunch and networking
13:30 Breakout sessions
14:30 Afternoon refreshment break and networking
15:00 Panel discussion: Making the most of your investment in cyber security
Most businesses are investing in cyber security – but with so many solutions out there, it can be hard to know where to begin. What internal buy in do you need? What skills will be most useful? How can individual solutions be integrated into a coherent strategy? This panel will explore what works when it comes to adopting cyber technologies, so you can be sure you're getting the most out of your cyber security investment.
15:50 Live hacking demonstration: Overcoming the fear of the Phish

Zoe Rosë, Ethical Hacker, Rose Security & Intelligence Ltd and Cyber Security Consultant, Baringa
Partners
16:20 Closing remarks
LJ Rich, Technology Presenter, Music Hacker and Inventor
Strategic partners



Host partner

Ticket information:
All CBI members and non-members are welcome.
CBI members benefit from free tickets - a saving of £100+VAT.
If the event is heavily subscribed, member ticket restrictions may need to be applied.
Affiliate places: £125.00 + VAT
Non-Members: £155.00 + VAT   
If you have any questions: Please contact the Event Manager Karen Peters.
Not a CBI Member:
Why not consider joining? See the benefits of becoming a CBI member here.
Terms and Conditions:
The Terms and Conditions for CBI events are available here.
Committed to protecting your privacy:
We respect your privacy. For more information on how we are committed to protecting your privacy and data, please click here.
---