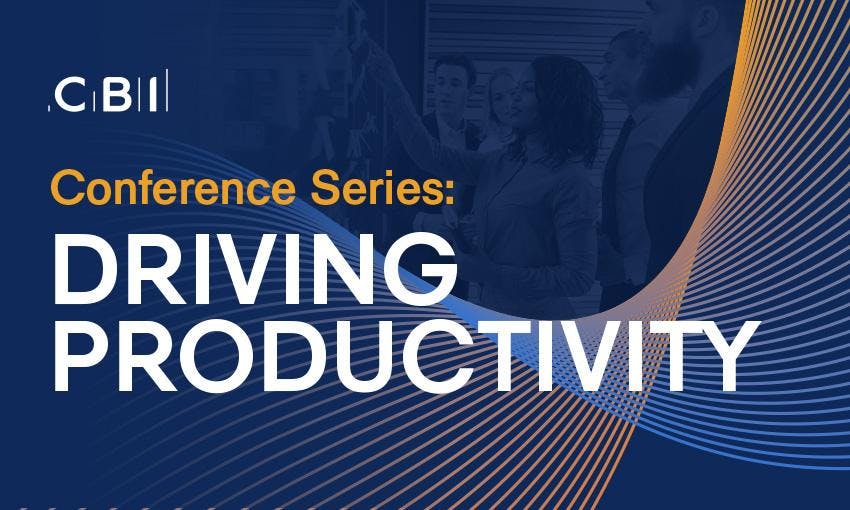 Attend this conference to kickstart your productivity plans – and benefit from discussions, advice and real stories that will help you drive real change and have a positive impact on your bottom line.

Improving productivity is paramount to growth, but in practice this can be a huge challenge to businesses of all sizes and from all sectors. Are you looking for ideas to drive real change in your business and have a positive impact on your bottom line? Want to know how others have done it?  
Join leading professionals from Atkins, Siemens, BVCA and British Business Bank to explore issues affecting growing businesses, such as:
Driving sustainable, profitable growth through exporting
Increasing productivity through progressive people strategies
Opening opportunities by adopting an innovative culture
Finding the right funding options to grow your business
Utilising government resources effectively to leverage growth

PROGRAMME
08:30 - 09:00 Registration and refreshments
09:00 - 09:10 Welcome and opening remarks
Matthew Fell, Chief UK Policy Director, CBI
09:10 - 10:00 What's the secret to driving productivity in your business?
Operating at peak efficiency enables your team to deliver major outputs. But is there a secret to running like a well-oiled machine? Hear from our panel of business leaders as they share their secrets and unique approaches to boosting productivity.
Andrew Peters, Managing Director, Siemens Digital Factory
Anne Sheehan, Business Director, Vodafone UK
Lucinda Pullinger, Global Head of HR, The Instant Group
Philip Hoare, President, Atkins
Moderated by: Jennifer Beckwith, Principal Policy Advisor, Employment Law and Employee Relations, CBI

10:00 - 10:30 How productivity can stimulate growth?
Growing a business can feel like an uphill struggle but there are resources in place to help businesses of all sizes to meet their potential. Learn about the facilities and guidance available to businesses across the UK and find out how these can be accessed and used effectively to drive productivity.
James Rees, Head of the Business Productivity Review, Department for Business, Energy and Industrial Strategy

10:30 - 11.00 How to fast-track growth with access to the right funding option? 
Access to Finance can be a challenge for firms of all sizes. The traditional methods of debt or equity finance have been supplemented by a whole new world of hybrid approaches but what are the best options for your business and how can you make the most of what's on offer? Financial experts will talk you through the options available to business and what approaches suit different scenarios.
Tim Hames, Director General, BVCA
Graeme Fisher, Managing Director - Policy and Communications, British Business Bank
Moderated: Flora Hamilton, Director, Financial Services, CBI
11:00 - 11:30 Refreshment Break
11:30 - 12:00 Driving a culture of innovation in your business
Change of any sort is difficult to action but embracing innovation is one of the most powerful tools we have in driving business forward. This session will explore how to create a culture that actively welcomes innovation and allows employees the flexibility to try new ideas without fear of failure.
Stephen Dury, Director of Innovation, Santander UK plc
Tom Gibson, Head of New Programmes, Be the Business
Kirk Vallis, Creative Capabilities Development, Google
Moderated by: Felicity Burch, Director of Innovation and Digital, CBI
12:00 - 12:20 Keynote: What does the future of work look like?
As technologies evolve and the culture of our organisations change, what will businesses have to do to drive productivity in the future? In the session we will hear from a company that is embracing these changes and rethinking the way they work.
Vikram Singla, Director, Strategy and Business Development, Digital Transformation, ERPM, UK, Oracle

12:20 - 12:30 Closing remarks
Matthew Fell, Chief UK Policy Director, CBI

12:30 - 13:30 Networking lunch

13:30 Close
Join us to enhance the intelligence and capabilities needed to help your business grow in the current climate.
Further information about tickets:

This event is open to all. CBI members are entitled to one complimentary ticket per organisation, with the option to purchase additional tickets at a reduced members rate.

If you have any questions please contact the Event Manager Nicky Cox.

Not a CBI Member:
Why not consider joining? See the benefits of becoming a CBI member here.

Terms and Conditions:
The Terms and Conditions for CBI events are available here.

Committed to protecting your privacy:
We respect your privacy. For more information on how we are committed to protecting your privacy and data, please click here.

---