Janice Charette
Canadian High Commissioner to the UK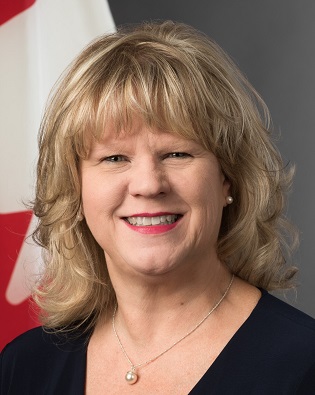 Janice Charette assumed her responsibilities as High Commissioner for Canada in the United Kingdom of Great Britain and Northern Ireland on September 7, 2016.
Prior to this, Ms. Charette served as Clerk of the Privy Council and Secretary to the Cabinet from October 2014 to January 2016 where she served as the principal public service advisor to Canada's Prime Minister in addition to her role as head of the public service. Previously, she was Deputy Clerk of the Privy Council and Associate Secretary to the Cabinet as well as Deputy Minister of Intergovernmental Affairs.
In a career that has spanned 8 ministries, Ms. Charette held senior executive positions across files that included skills development, labour markets, immigration, citizenship, employment insurance, health and justice. Her early career included work in the Privy Council Office, finance, regulatory affairs, federal-provincial relations and in the Prime Minister's office.
Ms. Charette worked in the private sector from 1996 to 1999, first as Principal in the management consulting firm of Ernst & Young, and as Director of the Transition Team for the newly formed Canada Pension Plan Investment Board.
Ms. Charette is a member of the Board of Directors of the Royal Ottawa Health Care Group and is a champion for mental health and wellness in the workplace. In 2008, she was national Chair for the United Way's Government of Canada Workplace Charitable Campaign, raising over CAD$36 million for communities and national health charities across Canada.
She was recognized as one of Canada's Top 100 Most Powerful Women in 2013 and 2014.
Ms. Charette attended Carleton University, where she received a Bachelor of Commerce. She is married to Reg Charette, and they have two adult children - Jed and Cassie.