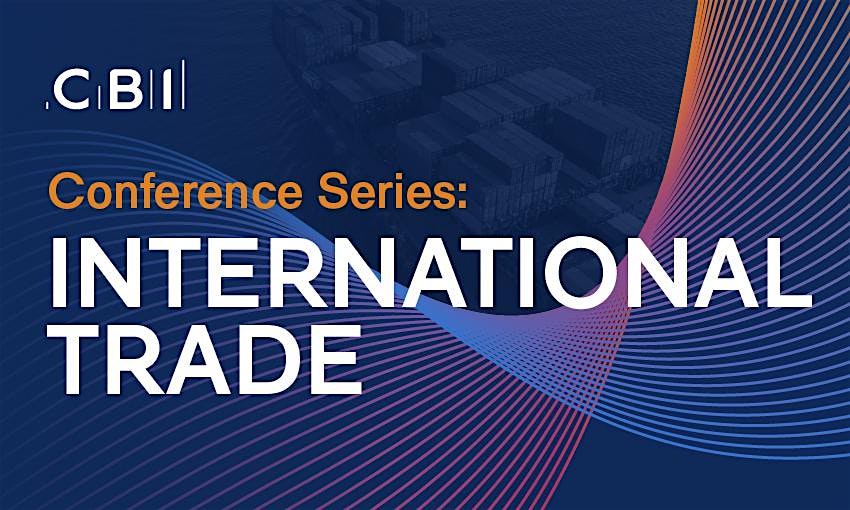 Maximise your global trade opportunities and get the inside track on what's really happening in trade policy, at the first ever CBI London International Trade Conference.
If your business trades internationally or is looking to, it's never been more important to understand how the UK's role in the global economy – and worldwide economic factors – could impact your firm. This conference will help you to navigate through these uncertain times, overcome the challenges and grasp the opportunities our changing world offers.

Why you should attend:

Learn not just how to operate - but how to thrive - in these challenging times, from business leaders already paving the way
Get practical advice on how to internationalise your business and understand how to put those plans into action
Get invaluable input from your peers by networking with other senior leaders who are facing the same challenges as you
Join senior international trade policy experts and CBI Vice-President Lord Bilimoria at our exclusive networking drinks reception.
Featured sessions:
11:50     In conversation with Antonia Romeo, Permanent Secretary, DIT

12:20     Keynote address from the government: Trading in a post-Brexit world
The UK is undergoing a revolution in the way we live, work and do business, which has wide reaching implications for the economy and society. What's next for British business? And how will the government support business in a post-Brexit world? Find out first-hand in this keynote session.
12:45    Trends in global trade: the challenges and opportunities in 2020

The way we work and operate is moving at an incredible pace. This session will give you the opportunity to hear from leading experts on the latest emerging trends; the importance of understanding the UK's role in the global economy; and which global factors can impact your business. And you'll also have the chance to get expert advice on how to overcome the external environmental challenges you face day to day.

15:25    The future of UK trade and making a success post Brexit - what you need to know

Hear from other businesses on what they see the risks and opportunities are in Global Trade post Brexit and what steps they are taking to capitalise on these opportunities. You'll hear what plans they have in place and be able to take away new ideas to implement in your own firm.
Confirmed speakers include:
Dame Carolyn Fairbairn, Director General, CBI
Senior Cabinet Minister
Antonia Romeo, Permanent Secretary, DIT
Karen Betts, CEO, Scotch Whisky Association
Chris Manson, CEO, Newable
Ben Digby, Director of International Trade, CBI
Julian Braithwaite, UK Ambassador to WTO
Deighton Conder, First Secretary, Trade and Economics, New Zealand High Commission
Joakim Reiter, Group External Affairs Director, Vodafone
Patrick Horgan OBE, Director Global Government Relations, Rolls Royce
Martin Wolf, Chief Economics Commentator, FT
David Tinline, Former Senior Advisor to the WTO
Swati Dhingra, Associate Professor of Economics, LSE
Sally Jones, Director, Deloitte
Wilson Del Socorro, Global Director of Government Affairs, Diageo

Conference Programme:
11:00     Registration and Refreshments
11:30     Welcome and Keynote Address 
11:50     In conversation with Antonia Romeo
12:20     Keynote Address

12:45     Panel Discussion
13:30     Lunch
14:15     Breakout Sessions
15:15     Break
15:25     Panel Discussion
16:10     Keynote Address

16:55     Close
17:00     Drinks reception with Lord Bilimoria CBE, Vice-President, CBI


Corporate Partner


Who should attend?
All CBI members and non-members are welcome. Those most likely to benefit from attending are individuals responsible for:

International and trade remit
Government Affairs representatives
SME and MSB CEO's, Managing Directors and Finance Directors


Ticketing information:
The CBI International Trade Conference welcomes business leaders from all organisations, including those that are not members of the CBI.
If you have any questions:
Please contact the Event Manager Carley Stump.

Not a CBI Member:
Why not consider joining? See the benefits of becoming a CBI member here.
Terms and Conditions:
The Terms and Conditions for CBI events are available here.
Committed to protecting your privacy:
We respect your privacy. For more information on how we are committed to protecting your privacy and data, please click here.
---