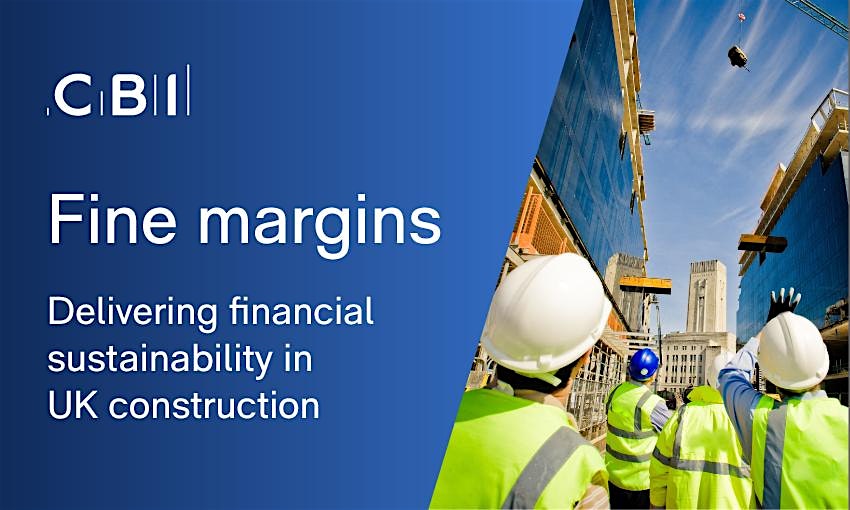 The CBI recognises how critical a strong construction industry is to the UK economy. Attend the launch of the CBI's new report into financial sustainability in the construction sector to hear how businesses and government can work together to help the industry thrive.
Join us for the launch of a new CBI report into financial sustainability in the construction industry, pointing a way forward for contractors and clients, and challenging some of the most accepted and most damaging practices that urgently need improving if the industry is to secure a long-term financial future.
Despite UK construction employing more than 2.3m people and contributing 5% of GDP, persistent structural problems prevent firms accelerating a much-needed transformation of the industry. Investment is being held back from the skills, technologies and innovation needed to radically lower the industry's environmental impact while improving quality and resilience of homes and infrastructure.
The temptation to tolerate, rather than challenge, the status quo while the financial outlook is tough has led to limited appetite for change. But contractors, clients and policymakers recognise that the industry can no longer continue to evolve at its current pace.
Why attend:
Hear from a senior government official on what the new Conservative majority means for the construction industry

Participate in a Q&A with government officials and CBI leaders

Contribute your views to the CBI's priorities for tackling challenges in the construction industry

Receive a copy of the CBI's report, exclusively for CBI members

Network with CBI members in the industry from across the country
Produced in partnership with CBI members in the construction, infrastructure and related industries, and with new research from Oxford Economics commissioned by the CBI, the report sets out a concise number of clear recommendations for change that should be adopted if the long-term financial health of the construction industry is to be secured.
We plan to develop these proposals together with our members, industry clients and policymakers. Ensure your business is involved as we take our lobbying forward by attending the launch and contributing your views at this CBI member-only event.
Ticketing Information:
This is a CBI member-only event and all CBI members are welcome. Complimentary tickets are restricted to one person per member company. However, if the event is not sold out, all additional availability will be allocated to the waiting list on a first come first served basis. 
If you have any questions:
Please contact Tim Miller.

Not a CBI Member:
Why not consider joining? See the benefits of becoming a CBI member here
Terms and Conditions:
The Terms and Conditions for CBI events are available here. 
Committed to protecting your privacy:
We respect your privacy. For more information on how we are committed to protecting your privacy and data, please click here.

---