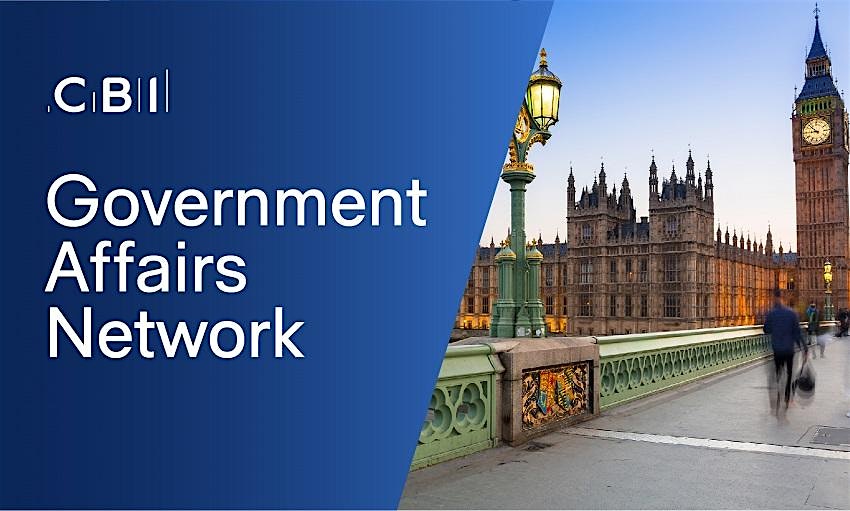 Join us at the third Government Affairs Network of the year to hear the latest political intelligence from Matthew Fell and John Foster.
The Government Affairs Network is the CBI's quarterly gathering of senior public affairs, communications and policy professionals and offers a platform for CBI members to discuss the biggest issues of the day, under Chatham House Rule.
The benefits of attending include:
Equipping your business with the necessary intelligence to naviagte the current political and economic landscape
Engaging and sharing ideas with industry peers through an informal breakfast networking reception and an in-depth Q&A session
Receiving answers to your most pressing questions directly from the CBI's experts 

Speakers include:
Matthew Fell, Chief UK Policy Director
John Foster, Director of Campaigns

Who should attend?
This event is open to all CBI members that work in government affairs, including:
Public Affairs / Government Affairs / External Affairs
Policy Managers / Heads of / Director
Senior Communications and PR professionals
Agenda:
08:30 – Registration and networking breakfast
09:00 – Welcome
Matthew Fell, Chief UK Policy Director, CBI
09:05 – Setting the Scene, presented by YouGov
09:15 - Economic and political briefing, followed by audience Q&As
Matthew Fell, Chief UK Policy Director, CBI
John Foster, Director of Campaigns, CBI
10:00 – Close of event
Please be advised that this event is held under Chatham House Rule.
Further information about tickets:
This event is exclusive to CBI member organisations. Please be advised that attendance is limited to one place per member organisation. Space is limited at this event so book your place today.
Can't make this date? 
The Government Affairs Network is held quarterly. Join us at one of our upcoming events:
If you have any questions:
Please contact the Event Manager Emelie Forsberg.
Not a CBI Member:
Why not consider joining? See the benefits of becoming a CBI member here.
Terms and Conditions:
The Terms and Conditions for CBI events are available here.
Committed to protecting your privacy:
We respect your privacy. For more information on how we are committed to protecting your privacy and data, please click here.
With thanks to our Strategic Partners:

Hill+Knowlton Strategies is an international communications consultancy, providing services to local, multinational and global clients. Part of WPP, the firm has over 80 offices in more than 40 markets, as well as an extensive associate network. H+K provides strategic advice and guidance on legislation, regulation and handling issues that impact businesses; ensuring clients have the right conversations, with the right people, at the right time.

YouGov is a global provider of data and analysis generated by consumer panels in over 40 markets plus bespoke stakeholder audiences such as politicians and journalists. We are powered by our unique connected data set, the YouGov Cube, encompassing hundreds of thousands of variables and over a decade of data on our highly engaged proprietary global panel of over 8 million people.
---