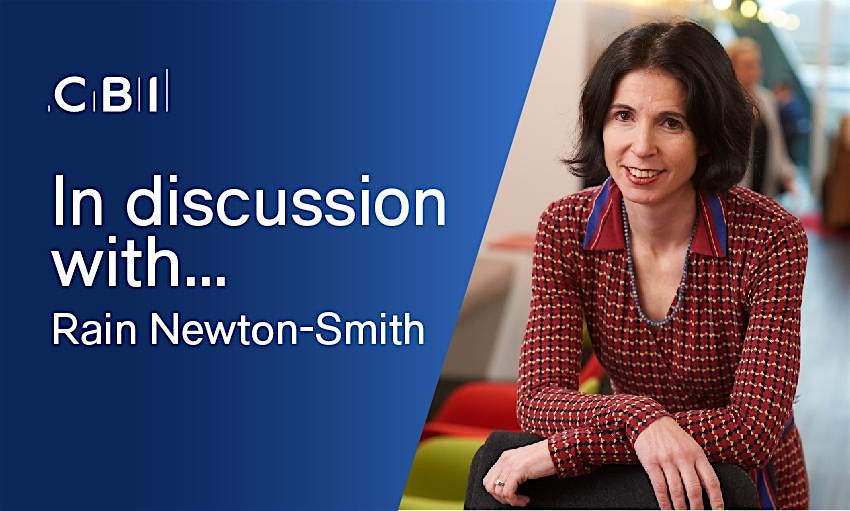 Join Rain Newton-Smith for an informal discussion with other senior business leaders. Hear first hand economic insight and intelligence and what this means for your business organisation.
Along with other members of the Management Board, Rain Newton Smith, has been at the forefront of CBI's daily contact with key government teams during the Covid-19 crisis, and continues to press the business case as the UK looks to 'Build Back Better'.  This event will be an opportunity to hear at first-hand from Rain about the representations CBI has made so far and she will be very keen to hear your own thoughts on what the government needs to focus on, how their recent interventions have impacted your business and sector, and gather views on the likely outcome for the UK economy.
This event will be delivered via webex.
Introducing Rain Newton-Smith, CBI Chief Economist:
Rain is the CBI's Chief Economist and leads our team providing in-depth economic analysis, including our prestigious business surveys. Before joining CBI she was Head of Emerging Markets at Oxford Economics, and the lead expert on China. She has worked in monetary policy and international forecasting at the Bank of England and spent some time on secondment to the IMF in Washington where she was adviser to the UK executive director.
Attend this event and you will:
Hear from the CBI Chief Economist who will give a detailed view of how the UK and international economy is performing and what this could mean for your future business planning and decision making

Build your profile and make lasting business connections that will help drive your business forward during these times of uncertainty

Network with other senior business leaders to raise your profile and build your network

Have the opportunity to take part in a roundtable discussion on the economy, alongside other regional business leaders and stakeholders
Further information about tickets:
This event is exclusive to CBI members. 
This event benefits from a diversity of members being in attendance and representing all sectors, so please register your interest by booking a ticket. CBI will inform you by email if you have been successful in gaining a place.
Can't attend? 
Please view our full  events calendar for other CBI events held throughout the UK.

If you have any questions: 
Please contact the Event Manager Hannah Simmons.
Not a CBI Member: 
Why not consider joining? See the benefits of becoming a CBI member here. 
Terms and Conditions: 
The Terms and Conditions for CBI events are available here. 
Committed to protecting your privacy: 
We respect your privacy. For more information on how we are committed to protecting your privacy and data, please click here. 
---