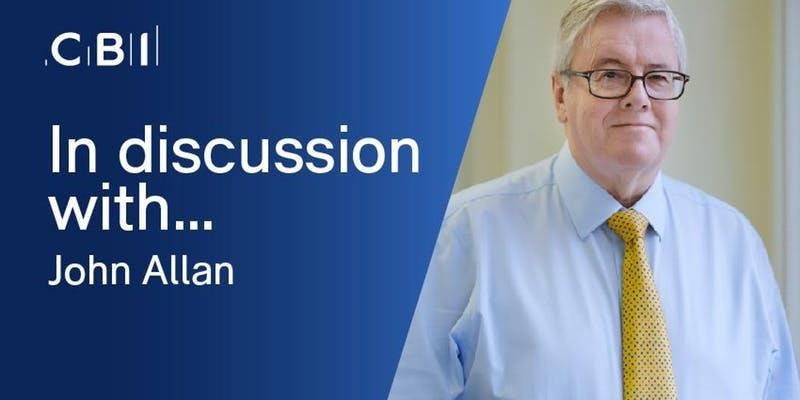 Join the CBI President at this exclusive member event. An informative discussion, over brunch, with senior business leaders, you will hear first-hand what is going on in the government and what this means for your business.
This event is sold out
From tackling business concerns over an ever-growing skills gap, to driving new and innovative approaches to trade, to championing the needs of business in our future relationship with the EU, John will share the CBI's commitment to creating the right environments for business to grow and deliver shared prosperity.
Attend and you will:
Benefit from a lively and engaging discussion with senior influencers in the region

Gain fresh perspectives and intelligence on key issues and challenges affecting your business

Hear the CBI's latest interactions with Government through John's role as CBI President

Hear first-hand the very latest policy, political and business insights

Connect with like-minded peers, grow your profile and business network
Who should attend?
This event is for CBI members only, with a maximum of 18 available tickets, so please register early.
This event benefits from a diversity of members being in attendance and representing all sectors. This will ensure the CBI President is able to hear the voice of business from all perspectives. Therefore, all tickets for this event will be allocated by the CBI.
Please request a ticket to indicate your interest in attending and we will notify you by personal email if you have secured a place. We apologise in advance if we cannot accommodate your request to attend on this occasion.


If you have any questions:
Please contact the Event Manager Roger Justin.
Not a CBI Member: 
Why not consider joining? See the benefits of becoming a CBI member here.
Terms and Conditions: 
The Terms and Conditions for CBI events are available here.
Committed to protecting your privacy: 
We respect your privacy. For more information on how we are committed to protecting your privacy and data, please click here.
---