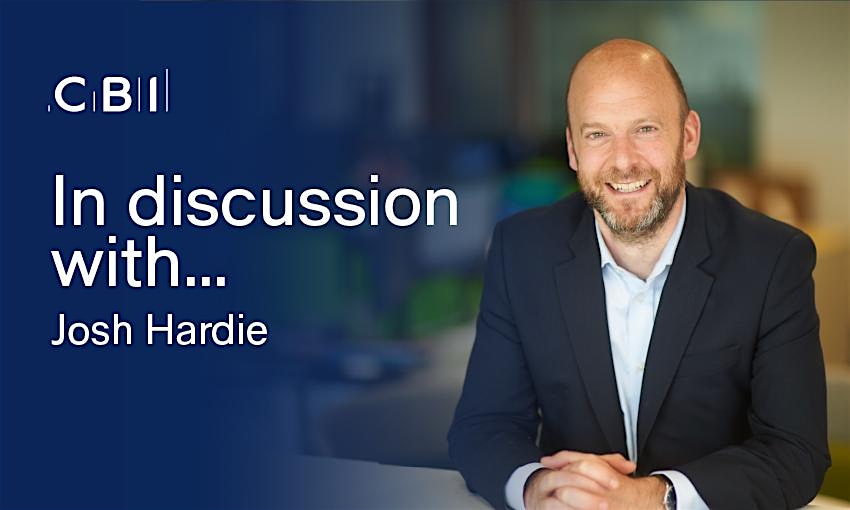 Join CBI Deputy Director-General, Josh Hardie – who leads the CBI's policy, media and campaigning work – at this exclusive online member event. Josh will share his unique insights on the current political, economic and business landscape with senior business leaders.

Due to COVID-19 Josh will no longer be visiting the North West physically, but will still join members in the region for an online discussion. In such extraordinary times Josh will provide insight on his frequent conversations with government on the latest aspects of the Coronavirus pandemic and its impact on the economy.

Josh will be particularly keen to hear from regional business leaders, their experiences and priorities in response to COVID-19 and the recovery over the months ahead.

Attend this member-only event and you will:

Hear the very latest intelligence from Josh's regular engagement with the heart of government
Gain fresh perspectives on the key issues facing business in response to COVID-19 and its aftermath – from employee engagement and safe return to work, to business reputation and the economic recovery
Have the opportunity to pose direct questions to Josh on the specific challenges facing your business during our Chatham House Q&A
This event is most beneficial for:
Business Leaders / CEO's / MDs / COO's

Government or Public Affairs / Corporate Affairs Directors / Heads of

Strategy VP's / Directors

Finance Directors

Keep ahead of your competitors by arming yourself with the intelligence your business needs to make better decisions – book your place today.
If you have any questions: 
Please contact the Event Manager Roger Justin.
Not a CBI Member: 
Why not consider joining? See the benefits of becoming a CBI member here. 
Terms and Conditions: 
The Terms and Conditions for CBI events are available here. 
Committed to protecting your privacy: 
We respect your privacy. For more information on how we are committed to protecting your privacy and data, please click here. 
---