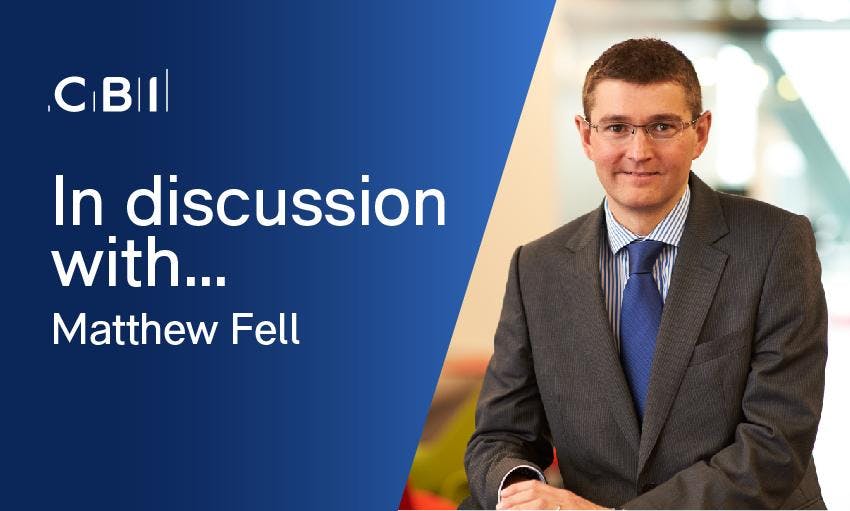 Take the opportunity to join Matthew Fell, CBI Chief Policy Director, to get informed first-hand about the very latest policy, political and business insights impacting your business.

Attend this event and you will: 
Join an expert led discussion that will address the key issues and challenges affecting the UK business

You'll be part of the discussion, gaining fresh perspectives and up-to-the-minute intelligence 

Connect with like-minded individuals that are experiencing similar challenges in today's business environment  
This event will ensure your voice is heard at the highest levels of the CBI by sharing your personal views and experiences.

Who should attend?
This event is strictly by invitation for CBI members, with a maximum of 20 places. All tickets will be allocated by the CBI. Simply make your interest to attend known by 'booking a ticket', and we will later notify you if your place is guaranteed.

We apologise in advance if we cannot accommodate your request to attend on this occasion. The CBI will confirm ticketing allocations by personal email. 
If you have any questions:
Please contact the Event Manager roger.justin@cbi.org.uk. 
Not a CBI Member:
Why not consider joining? See the benefits of becoming a CBI member here.

Terms and Conditions:
The Terms and Conditions for CBI events are available here Terms and Conditions.
Committed to protecting your privacy:
We respect your privacy. For more information on how we are committed to protecting your privacy and data, please click here.
---