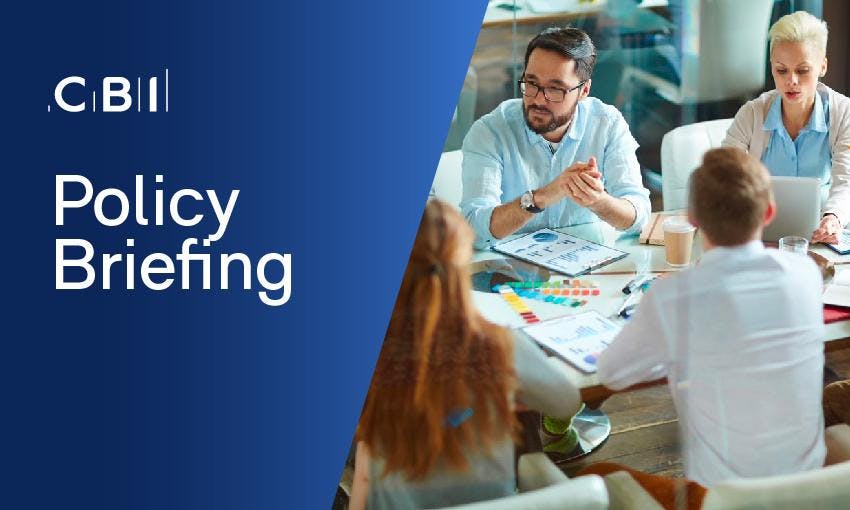 CBI Policy Expert Tom Thackray, CBI Director of Infrastructure, updates members on the very latest changes proposed by the government. Helping your business to get ahead of the change so you're ready to respond.
Attend this Policy Briefing and you will: 
Gain expert insight from the CBI's Infrastructure team. Helping you to cut through the noise and provide you details on what the latest developments are and what these might mean for business

Hear from leading businesses on what their experiences and plans are – providing inspiration for you to think differently about the challenges ahead

Access up-to-the-minute information
With the largest policy team outside Westminster, the CBI is uniquely able to provide members with invaluable expertise and intelligence. You will hear key insights and the latest updates from the CBI's Director of Infrastructure, Tom Thackray on the future of commuting in London and the South East', which will pick up on a number of different themes, including housing and low carbon transport. 
Changes in technology and behaviour stand to revolutionise how people work and get to work. But the benefits of changing work, travel and life patterns to quality of life and productivity will only be realised through seamless connections at, to and away from the office.
With the future of mobility and the role of new technologies high on the policy agenda, it is vital that we separate those technologies that, whilst interesting, will have a minimal impact on how people live their lives, and those with the potential to have a transformational impact for businesses, their employees and the public.
Tom Thackray, CBI Director of Infrastructure, will lead a discussion on how investment in infrastructure can not only improve the connections that people currently rely on but also future proof networks for the way that people will want to live, work and travel in the future.
Who should attend?
This is a CBI member only briefing and all CBI members are welcome. You'll particularly benefit from this event if you are:
Government Affairs / Corporate Affairs Director/Heads of

Public Affairs Directors / Heads of

Business Leader / CEO's / COO

Strategy VP / Director

Finance Director / CFO
Space is limited at this event. Book your place today to secure your place.
Important information about tickets
This event is exclusive to CBI Members only, and tickets are exceptionally limited  (maximum 25).
This event brings greater benefits to all attendees when the audience is diverse - with leaders from different businesses, regions, sectors and job roles. To enable diversity, all tickets will be allocated by the CBI to maximise the potential for a successful event.
Please express your interest in attending this event  – this will notify the CBI you would like to attend, but does not guarantee your place. The CBI will confirm ticketing allocations by personal email. We apologise in advance if we cannot accommodate your request to attend on this occasion.
If you have any questions:
Please contact the Event Manager Elena Savvides.
Not a CBI Member:
Why not consider joining? See the benefits of becoming a CBI member here.
Terms and Conditions:
The Terms and Conditions for CBI events are available here.
Committed to protecting your privacy:
We respect your privacy. For more information on how we are committed to protecting your privacy and data, please click here.
---