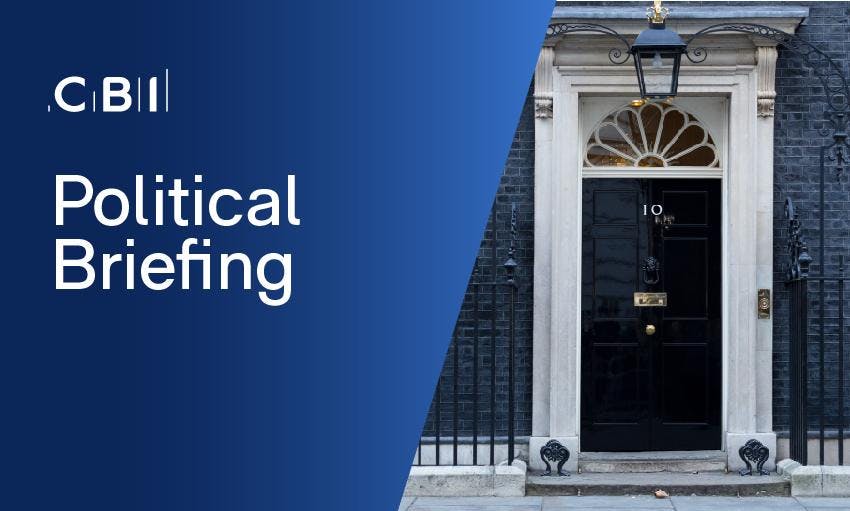 Keeping pace with Westminster is exceptionally challenging right now. The CBI can help. Attend to gain valuable insight following party conference season and the latest on Brexit negotiations from the CBI's Head of Campaigns.
Here are four good reasons to register for this Political Briefing:
Hear a comprehensive download of all the very latest CBI political intelligence, with key insights and analysis from across Westminster and Whitehall

Stay on top of the political movers and shakers within the Johnson Government and ask Callum Biggin's, Head of CBI Campaigns about the latest government policies and proposals that could impact your business

Get the latest steer on the prospects of a snap general election – and the impact this could have on business in a post-Brexit environment

In addition, there will also be the opportunity to network with other attendees to grow you network and hear new perspectives
This event is suitable for all senior business leaders, including:
CEO's / COO's / Managing Directors 

Government/ Corporate / Public Affairs Directors / Heads of

Strategy VP's / Directors

Finance Directors
Secure the knowledge and intelligence to support your business to make better decisions. Book your place today.
About Callum Biggins, CBI Head of Campaigns 
Callum leads on the CBI's political engagement, the coordination and delivery of the CBI's policy plan and the building of a campaigning culture at the CBI. Prior to taking up his current role, Callum worked in the CBI's economics team, leading the organisation's work on fiscal events. Before joining the CBI, Callum worked as a campaigns organiser for a political party and as a parliamentary adviser in both the UK and European Parliaments.
Further information:
This a CBI member event. Complimentary tickets to this event are restricted to one per member company. However, if the event is not sold out, all additional availability will be allocated to the waiting list on a first come first served basis.
If you have any questions:
Please contact the Event Manager Lisa Peterson.

Not a CBI Member:
Why not consider joining? See the benefits of becoming a CBI member here. 

Terms and Conditions:
The Terms and Conditions for CBI events are available here. 
Committed to protecting your privacy:
We respect your privacy. For more information on how we are committed to protecting your privacy and data, please click here. 
---