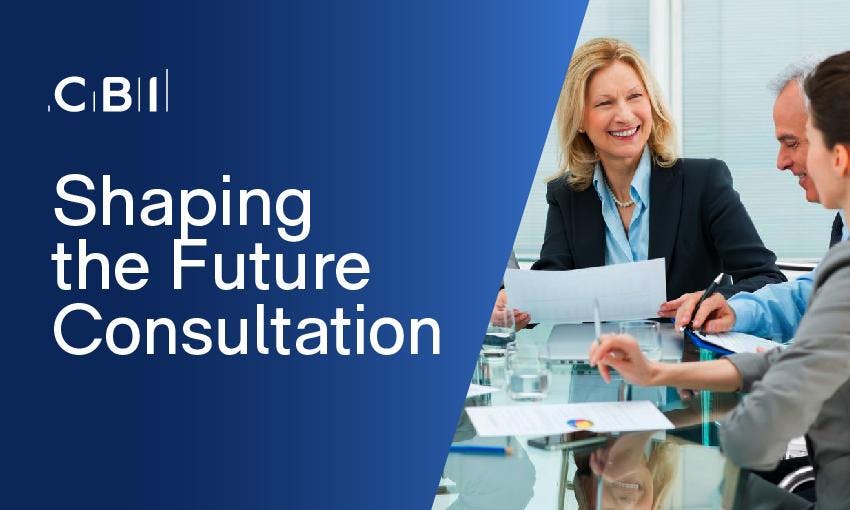 This event will provide an opportunity for businesses to feed into the CBI's submission to the Government's consultation on proposals to reduce ill-health related job loss 
With almost record high employment rates and record low unemployment, many businesses are struggling to recruit and retain the people they need. However there remains a gap between the employment of disabled people compared with those who are non-disabled, and disabled people are twice as likely to fall out of work. The Department for Work and Pensions and Department for Health and Social Care have published a joint consultation on proposals to reduce ill health-related job loss.
Tackling this issue and reducing job losses related to long-term health conditions or sickens absences is in everyone's interest. Employers can benefit from an increase in productivity of their workforce and retention of key talent. Individual's mental and physical health benefits significantly from being in good employment. And government benefits from an economy with more people in work, reduced spending on out-of-work benefits and potential reduction in demands on the NHS.  
However the methods in which government seeks to reduce ill-health related job losses has the potential to impact the costs businesses face, particularly for SMEs. CBI will be influencing government to ensure it works constructively with employers to put sustainable measures in place, rather than imposing top down solutions.
Key topics and questions to be addressed are:
A right to request work(place) modifications on health grounds – is a 'right to request' workplace modifications the correct approach to supporting people with health condition stay in work? Who should be eligible? Should this apply to all employers? What would be legitimate grounds for an employer to refuse?
Strengthening statutory guidance

to prompt employers to demonstrate that they have taken early, sustained and proportionate action to support employees return to work – would this be helpful or not? Should such guidance be principles-based or more specific? How could an employer demonstrate they have taken such action? What support would be needed to meet such a legal requirement?

Reforming Statutory Sick Pay (SSP)

– how would removing rules requiring the identification of qualifying days for SSP impact your business? How would extending eligibility to SSP to people earning less than £118 per week impact your business? Should the right to SSP be accrued over time? Should enforcement mirror that of the National Minimum Wage? Should employees be notified 4 weeks in advance of their SSP ending? How could an effective rebate of SSP be designed? How does the current rate and length of SSP impact your decisions as an employer?

Reforming the Occupational Health (OH) market

– is there a case for government financial support to fund OH? Would targeted subsidises/vouchers be effective in supporting SMEs to provide OH?  What market mechanisms would be most effective to boost access to OH for small employers? What indicators of quality and compliance arrangements would help when choosing an OH provider?

Advice and support for employers

– should employers be required to report sickness absence to government? Would SMEs benefit from prompts to information or advice when an employee is on a sick leave? What additional information would you find useful when purchasing OH services?
Attend this member consultation on ill-health related job loss and:
Help shape and influence the CBI's response to Government's consultation on proposals to reduce ill-health related job loss.
Learn what action other employers are already taking to reduce sickness absence and support their employees return to work
Understand how other businesses are thinking about potential changes to Statutory Sick Pay and possible reform of the market for occupational health services
Gain expert insight from the CBI's employment law and employee relations team on these issues.
Who should attend?
This is a CBI member only roundtable discussion and all CBI members are welcome. You'll particularly benefit from this event if you are:
HR Director / People Director/ Talent Director/ D&I Director / Personnel Director

Head of HR / Head of People / Head of Talent/ Head of D&I / Head of Personnel

HR Business Partner

HR Manager / Diversity and Inclusion Manager

Government Affairs / Corporate Affairs Director/Head of

Public Affairs Directors / Heads of
 Space is limited at this event. Book today to secure your place.
Important information about tickets:
This event is exclusive to CBI Members only, and tickets are limited (maximum 20).
If you have any questions:
Please contact the Event Manager Colette Cunningham
Not a CBI Member:
Why not consider joining? See the benefits of becoming a CBI member here.
Terms and Conditions:
The Terms and Conditions for CBI events are available here.
Committed to protecting your privacy:
We respect your privacy. For more information on how we are committed to protecting your privacy and data, please click here.
---