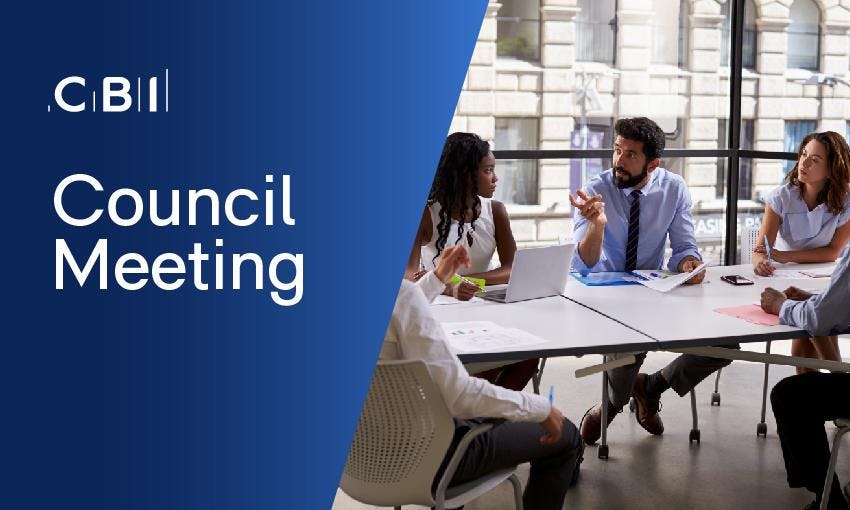 Have a direct say in what we do and how we do it; input evidence to drive policy development and CBI campaigns for change. The Council is one of the CBI's formal governing bodies.  

A typical Regional Council meeting agenda follows the following: 
CBI Update on Political engagement  

State of Trade 

Economic Update 

Policy paper for discussion 

Networking  

Who should attend?

Attendance at this meeting is only open to those CBI members who have been elected to hold a seat on Council.  Councillors may not send colleagues in their absence.
Councillors, please confirm your attendance or send your apologies on or before 6.9.19.  You may do this in one of two ways:  
Email: Council Secretary: tracy.mills@cbi.org.uk


Accept or decline the meeting calendar invitation that will be sent to Councillors  
Interested in becoming a CBI Councillor?  
All CBI members are welcome to stand for election in a Regional Council in the region their business operates in.  Elections for new councillors usually start to take place in September each year.     
If you would like to find out more about the CBI, our governance structure and your possible role as a Councillor, please contact Chris Kelly via email chris.kelly@cbi.org.uk.  

If you are not a CBI Member, you can find out more information here.
CBI event terms and conditions.
---