Leader of the Liberal Democrats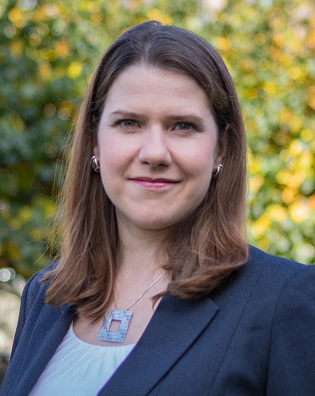 Jo is the Member of Parliament for East Dunbartonshire and Leader of the Liberal Democrats.
She was first elected in 2005, becoming the first ever Liberal to represent East Dunbartonshire, her home constituency.
Between 2012 and 2015, as a Minister in the Department for Business, Innovation and Skills, Jo introduced shared parental leave, extended flexible working rights, clamped down on payday lenders, increased penalties on employers failing to pay workers the minimum wage, improved corporate reporting, introduced new rights for consumers buying online and changed the law to make gender pay gap reporting happen.
After a decade in politics, Jo lost her seat in 2015. She went on to set up her own business and wrote her book Equal Power, before regaining her seat in Parliament in 2017 and becoming the party's Deputy Leader. She was elected Leader of the Liberal Democrats in July 2019.
Jo was awarded a CBE for services to political and public life in the 2018 New Year's Honours.